VW Unleashes Its First Electric Car
Summer of 2020 will be sunny and green for German automaker, Volkswagen (VW), once they deliver their first 100% electric car known as the ID.3 model. The four-door, Golf-sized electric hatchback has a range of 261 miles on a full battery and a base price of $33,000 USD (€30,000). In anticipation of the ID.3 being released, more than 35,000 international customers already paid a deposit and are on a reservation list awaiting the completed car.
Volkswagen's Modular Electric Drive Toolkit (MEB) is the basis for the ID.3 vehicle and all future versions. MEB sums up an all-electric platform that has a long range, dynamic handling, and a spacious interior. In fact, VW named the ID.3 as such because of its "intelligent design" that includes advanced technology.
The ID.3 is just the beginning of a complete e-mobility series. Over the next ten years, VW will roll out 75 completely electric cars and 60 hybrids. In 2020 alone, the car company will produce 34 new VW models of which eight will be electric/hybrid and 12 SUV/crossovers.
Volkswagen has gone all in on their move to an electric platform by spending a whopping $6.7 billion USD on this corporate transition. VW's impressive investment has gone into perfecting EV design and performance, as well as developing a carbon-free footprint within their international auto plants.
Find Cheap Full Coverage Auto Insurance
Planting the Seed: Green Production
Thomas Ulbrich, VW board member, sums up the auto giant's plans this way: "Our promise is if we make an MEB car like the ID.3, the car will be CO2 neutral by the time of handover to the customer." To meet this ambitious goal, Volkswagen has been busy converting their traditional production plants into energy efficient workshops. Three German plants have been completely converted while other VW manufacturing plants in the United States and China have been either fully or partially-converted. To complete the CO2 neutral production cycle, VW intends on only working with suppliers that run on green energy as well.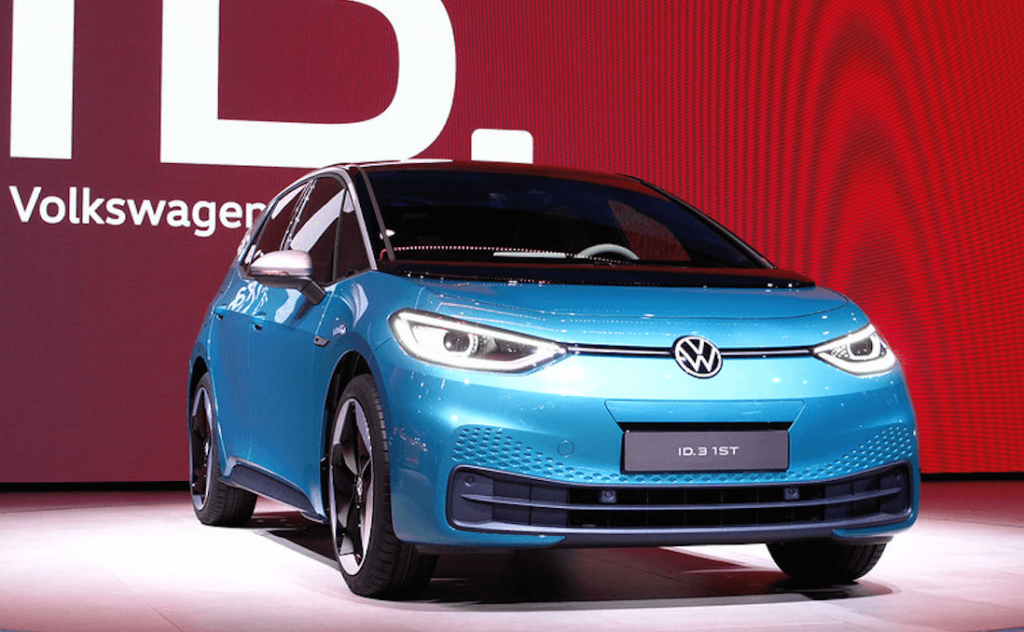 The car company has gone on a media blitz heralding their carbon-neutral production. Volkswagen is exclusively using green power while building energy-intensive battery cells. Any emissions that are created from the fabrication process will be offset through an investment in the Indonesian "Kantinga Mataya Forest Production" climate project based in Borneo.
VW's Zwickau Germany assembly line will manufacture 330,000 EVs each year beginning 2021. This will make Zwickau the largest and most energy efficient e-mobility factory within Europe and goes a long way towards Volkswagen's global production.
VW Keeps Driving Forward: Leaving Dieselgate Behind
The electric ID series may be as significant in Volkswagen history as the 1945 Beetle debut and the 1974 Gulf release. Of course, the car company is banking on e-mobility but they aren't totally giving up on diesel and petrol cars just yet. In some VW manufacturing locations, the company will continue to produce internal-combustion and electric vehicles alongside each other. The auto group anticipates their move towards EV models will help the European Union to meet their total CO2 emission targets while also making the car company climate-neutral by 2050.
Volkswagen may be very committed to protecting Mother Earth but, in all honesty, some positive press could really help the company after the 2015 Dieselgate scandal. Many consumers haven't forgotten that US regulators proved that VW installed "defeat devices" in its cars which helped them fool emissions tests. In fact, some of the vehicles were emitting high levels of hazardous exhaust yet VW was able to cheat the system through their defeat devices.
Dieselgate affected about 11 million vehicles worldwide and resulted in class action lawsuits in the United States, Germany, and Australia.
Technology Keeps ID.3 Rolling
Along with green products and production lines, the automaker will also introduce new technologies that will enhance the ID experience.
4G Cloud Connection
The first batch of ID vehicles will have advanced electronic functions, including being connected to the cloud via a 4G network, with the capability of eventually using a 5G network. Volkswagen went to great lengths to come up with a brand new approach to vehicle electronics (which they call E3) along with a new proprietary OS operating system which lets ID software update remotely.
High Powered Chargers
Electric automobiles are useless if they aren't properly charged. That's why VW joined forces with Ford, BMW, Daimier, and other automakers to open 400 battery charging sites across Europe during the coming year. Each charge station can charge six vehicles up to 350kW and 920 volts.
Recycling Plans
Like with anything else, lithium ion batteries used for EVs will eventually die. For this reason, critics warn a dramatic increase in the production of electric cars could result in mountains of dead lithium ion batteries. Volkswagen is working to get in front of this situation by developing a recycling process that'll recover 97% of each battery's compounds. The VW recycling process for batteries should be ready for market by 2025.
The German automaker is also still figuring out how ID.3 owners will eventually be able to recycle the entire vehicle and all of its components.