USA Considering Mirrorless Cars
American drivers learn to put on their seat belts and adjust their mirrors the first time they get behind the wheel. This practice is taken so seriously that driving instructors deny student drivers a license if they don't faithfully check their mirrors prior to lane changes and while backing-up. Despite the critical safety feature that both side and rearview mirrors represent, the auto industry is slowly introducing mirrorless cars that rely on advanced camera systems instead.  
Recently the US National Highway Traffic Safety Administration (NHTSA) announced plans to test how drivers of passenger vehicles handle the use of camera mirrors instead of traditional mirrors. The NHTSA testing will study both driving behavior and lane change execution in cars with standard mirrors versus cars with camera-based visibility systems. 
The federal agency's announcement came more than five years after the Alliance of Automobile Manufacturers petitioned for approval of camera mirrors instead of rearview mirrors in heavy duty trucks. The Alliance is a trade group made-up of companies like General Motors, Volkswagen, Toyota, and others. Even though NHTSA is now making a small step forward in the mirrorless car discussion the Alliance petition is still pending approval.
The US government's mirrorless safety testing is a little late to the party considering automakers are already selling mirrorless cars in Europe and Japan. Audi of America spokesman, Mark Dahncke, believes mirrorless systems are an example of technology being far ahead of the American legislative curve.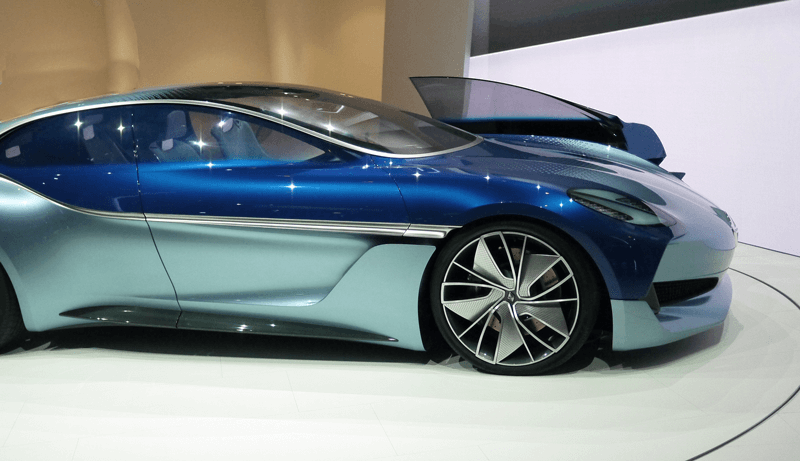 Mirrorless Cars Merge into Foreign Auto Markets
If you want to take a mirrorless vehicle for a spin then you'll have to get a plane ticket and passport first. Several international car makers have already introduced mirror cameras but only outside of the States. In fact, since last year four different car-makers began selling mirrorless cars in Japan and Europe.
Last year Toyota began selling the Lexus ES with cameras in place of side mirrors. Shortly after that debut, Volkswagen released an Audi E-Tron model with cameras, sans side mirrors, to the European market. In the coming months, Honda will make this new technology standard on the Honda E model sold in Europe. Finally, Mitsubishi recently began selling cars with AI cameras (one on each side plus a back-up camera) too.
Tesla announced last month they made all eight external cameras on three of their models so drivers can experience a 360-degree visualization of their surroundings. Now owners of Tesla Model 3, Model X, and Model S vehicles have the ability to rely on their camera systems along with traditional rear and side mirrors.
Japan Leads the Mirrorless Car Race
In 2016, Japan became the first nation to adjust regulations allowing the use of camera systems in place of mirrors. Soon after the European Union decided to do the same. That change immediately created a crush of parts manufacturers looking to perfect replacement camera mirrors. Companies like Japan's Ichikoh Industries, Germany's Bosch GmbH, and France's Valeo SA all jumped on board to the mirrorless movement.
Studies suggest approximately 29 percent of autos on Japanese roads (2.3 million vehicles) will come with camera mirrors by 2023. In addition, there are projections that 12 percent of the market, or 900,000 cars, will eventually have exterior side mirrors replaced by video systems.
Ichikoh Industries CEO, Alil Ordoobadi, explained that automakers hadn't previously used camera monitors to replace mirrors because they didn't have adequate visibility. However, the technology is finally advanced enough to begin implementing the use of video systems.
Mirrorless Car Benefits Include Safety and Savings
Last year the United Nations' World Forum for Harmonization of Vehicle Regulations consented to the use of modern camera mirrors that meet particular specifications. The UN's standards focus mainly on the use of high performance video monitors that provide sufficient visibility. Automakers have been working diligently to produce such high quality mirrorless systems.
Mitsubishi stressed the fact that their AI video system, called Maisart, can distinguish between pedestrians and vehicles up to 328 feet away. Furthermore, Mitsubishi boasts Maisart is 70% better at identifying its surroundings than any other mirrorless car system. Other automakers and parts companies will certainly begin perfecting their video mirrors.
All the big auto players and most foreign government regulators seem to think replacing traditional mirrors are advantageous. The reasons why are that camera monitors in place of regular mirrors will help improve overall safety and boost fuel economy.
Sophisticated camera monitoring systems are able to capture a wider view including blind spots. They can also enhance the picture by digitally adjusting darkness or glare even under rainy or snowy circumstances. Second, camera-based systems weigh less than standard side mirrors which makes the vehicle more fuel efficient. Frankly, the sight of a mirrorless car can be quite appealing when you consider the streamlined silhouette that results from removing clunky side mirrors.
Waiting on NHTSA Study Results
NHTSA conducted a preliminary 2018 test of a prototype camera system. In those original findings, NHTSA commented that the camera mirrors were "generally usable" in the majority of situations. The US administrators went on to say the video cameras produced better quality images than regular mirrors, particularly in poor lighting between the hours of dusk and dawn. 
Despite the positive NHTSA findings, nearly three years later they are still kicking around the idea of moving ahead with mirrorless vehicles. Now the organization will begin the next chapter of studies to determine the best plan of action. However, there is no definitive timeline for a final decision and changes to US auto safety standards usually take many years.