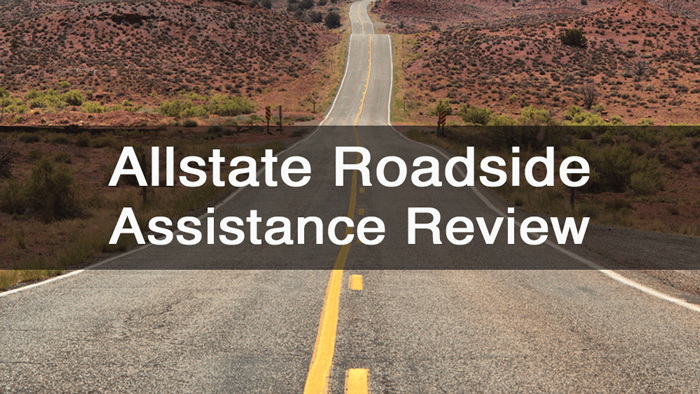 Allstate Roadside Assistance Review & Cost
Cost of Roadside Assistance
Allstate is currently ranked as the 4th largest writer of private auto insurance. So the carrier certainly knows a few things about customers and their cars. That may bode well for Allstate's roadside assistance and motor club programs. We decided to research Allstate's emergency roadside plans and evaluate them based on a few different factors like benefits and pricing.
How Much Does Allstate Roadside Assistance Cost?
Allstate has three distinct types of roadside assistance to fit a variety of budgets. The original roadside assistance is an add-on service for existing Allstate policyholders. Or Allstate insureds can simply choose a pay-per-use emergency roadside option. Finally, Allstate has an annual motor club membership for all consumers, whether they have an Allstate policy or not.
Each of Allstate's roadside choices come with different price tags. Adding roadside to your existing Allstate auto coverage is $2 per month. Their basic motor club membership is $6.58 per month and their elite motor club is $11.58 per month. If you choose to use their pay-per-incident coverage, it will top out at $119.
The covered benefits change depending on which of the three roadside service levels you pick. Please see the below tables for a better understanding of what each plan includes.
What is Allstate's Contact Info for Roadside Service?
Allstate's emergency roadside help is available anytime you need it. You can request roadside service 24/7 and the carrier pledges a response time within 30 minutes. Allstate gives you a few different ways to call for help when there's a breakdown. You can phone the carrier's toll-free number of 1-877-597-3393 or use their free Allstate mobile app (iOS/Android).
In the case of the pay-per-service option, you'll go to www.roadside.allstate.com and select the type of assistance needed. Allstate's portal will pinpoint your location and dispatch a service provider.
How Does Allstate Most Basic Roadside Assistance Compare to Other Providers?
We put together a comparison chart showing roadside assistance plans for all of the top insurance companies, including Allstate. The majority of emergency roadside programs provide the same services and similar pricing. Allstate helps their members with 3 incidents per year of towing, winching/extraction, locksmith, fuel delivery, jump start, flat tire, and on-site mechanical adjustment.
The main differences among carriers comes down to the distance/price caps for towing, winching, and other services. You'll see Allstate keeps things simple by putting a limit of $100 for the majority of their roadside benefits. This means as far as $100 will get you then that's what's covered under the Allstate program and anything beyond that amount will come out-of-pocket. In most cases, $100 limit should be sufficient but be warned as you could run into a situation that'll require a bit more money to get you where you want to go.
All the brand name car insurance companies encourage clients to add-on roadside assistance to their auto policies. As you probably noticed, each of these emergency plans have very similar service levels. However, GEICO offers the most generous towing miles (100 miles) despite charging the lowest ($14 per year) rate. Allstate doesn't have a towing restriction based on miles but rather a $100 towing benefit limit.
Keep in mind, if you went without a roadside service program altogether then a 100 mile tow may cost anywhere from $275 to $600 out-of-pocket. Obviously selecting an emergency plan with a high number of towing miles could save you hundreds of dollars. You'd experience a ton of savings on just one tow and an incredible amount of savings if your family experiences more than one breakdown within the same year.
Something else to consider is that adding on a roadside program to your existing auto insurance also means you'll be tied to that carrier. Before you move forward be sure to ask yourself these questions: Is this insurance company the one I want insuring my car? Do I trust the insurer? Does the carrier have a good customer service record? Am I getting a competitive rate for the entire car insurance policy?
How Does Allstate's Roadside Advantage Plan Compare to AAA's Equivalent?
Allstate's Roadside Advantage Plan is a motor club membership that you can join even if your vehicle is covered by another insurance carrier. Allstate's free-standing roadside program was created in the tradition of perhaps the most famous motor club company, AAA. Unlike standard roadside assistance plans, motor clubs offer more extensive benefits and additional membership perks. The advantage of any motor club membership really depends on how much you travel, how reliable (or unreliable) your car can be, and if you'll use any of the bonus discounts.
After reviewing our comparison chart a bit closer, you'll probably notice the following:
Allstate covers 3 incidents/breakdowns per year while AAA covers 4 incidents annually.
Both motor clubs will help you fix a flat but only Allstate will pay up to $100 towards repairing or replacing a tire.
Allstate has a very generous Trip Interruption Reimbursement of $1,500 (six times the amount AAA gives).
Allstate lets you have 3 free CARFAX reports per year but AAA only gives a 20% discount.
It may be a bit confusing when you're trying to select the best motor club for your family. You'll have to determine which program you'll benefit from the most in the long-run. As we mentioned earlier, keep in mind how many miles you drive each year, how reliable your car is, and whether you will use any of the bonus services/discounts.
How Does Allstate's Platinum Elite Plan Compare to AAA's Equivalent?
Both Allstate and AAA sell upgraded versions of their basic motor club plans. Of course, the cost for the plans is higher since the service benefits are more robust. Below is an overview of how Allstate's Platinum Elite Plan compares to the AAA Plus membership.
As you can see, paying $10 more for Allstate's annual membership will bring you even more value such as:
Allstate's Platinum Elite plan pays for 5 incidents/breakdowns annually which is 1 more than AAA gives. Added service calls can be helpful if you're on the road often or have a large household with multiple drivers.
Both motor clubs still help you fix a flat under the enriched plans but only Allstate will pay up to $250 towards repairing or replacing a tire.
AAA does double their Trip Interruption payout to $500 but Allstate still has a healthy $1,500 benefit.
AAA sticks with their 20% discount on CARFAX reports while Allstate gives you a total of 7 free CARFAX reports.
One area where AAA Plus does outshine Allstate's Platinum Elite membership is the towing service. AAA members enjoy up to a 100 miles of towing without any out-of-pocket costs. On the other hand, Allstate will only cover up to $250 towards a tow regardless of the miles needed to reach home or a repair shop. Obviously when you look at how expensive a 100 mile tow can be ($275 to $600 on average) then it's pretty evident AAA Plus has a better towing benefit. Now if you mostly drive within city limits or stay close to home, the chances of using a 100 mile tow benefit is minimal.
AAA Plus also has better coverage for winching/extraction services, free fuel (3 gallons), new battery delivery, and other minor perks. In the end, you'll need to evaluate which of the motor club services are most important to you and your family.
Allstate's Motor Club Discounts
Below you'll find a list of motor club discounts provided to Allstate members. Keep in mind, these discounts are only for Allstate's Advantage and Platinum Elite motor club programs. You can't access these same discounts if you simply add-on roadside assistance to your Allstate auto insurance.
If you do use motor club discounts, whether they are from Allstate or AAA, then you will find the savings from your discounts can actually off-set your membership fee.
Allstate Keeps You on the Road
Overall you'll find that most roadside assistance programs are fairly similar. There are only so many ways you can quantify fixing a flat or towing a car. If you're trying to determine the best value for your dollar then you may have to dig into the details while evaluating your own needs. In the end, buying Allstate emergency assistance may be a great choice if you're already insured by the carrier. If you're not an Allstate policyholder but prefer their coverage levels to AAA then signing up for Allstate's Advantage or Platinum Elite motor clubs is a solid choice.